Moderator: Datastream Command Interface
Pre-Cognitive Lifeform
Posts: 1
Joined: Wed Jul 28, 2010 10:30 pm
Twitter: Cadha13
Location: Albuquerque, NM
Contact:
Hello, I am a newcomer to this board, but this a fun place from what I have seen. Now. off to the boards!
---
Quantum Dominion Singularity
Posts: 831
Joined: Wed Mar 14, 2007 7:18 pm
Location: Asleep in my cat cube. Observing Haruhi.
Contact:
Greetings and welcome .... although at the moment its a little quiet that normally changes without notice.. Enjoy your stay
Enjoy the magic of every sunrise.
Wonder at the sight of snow.
Appreciate the joy of living in the now.
Upon tomorrow live a new life for a new day.
---
Post Organic Data Entity
Posts: 3304
Joined: Tue Oct 09, 2007 11:34 am
Twitter: Haruhi_SAMA
Location: Here in body, if not in spirit.
Hello there, welcome to the happy house.

Hope you enjoy your stay here :3
---
Quantum Dominion Singularity
Posts: 1494
Joined: Mon Mar 19, 2007 1:46 am
Twitter: mikoto_desu
Location: Just on the border of your waking mind...
Contact:
Ricchan desu! Doozo yoroshiku!

---
Datastream Command Interface
Posts: 1376
Joined: Fri Feb 08, 2008 5:03 am
Location: Kasukabe
Contact:
Welcome. Yeah the boards are quiet, but use it as a mode of communication and they work just fine. There is a dedicated community here, you just have to be a little persistent.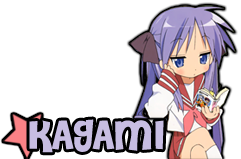 ---
Users browsing this forum: No registered users and 2 guests