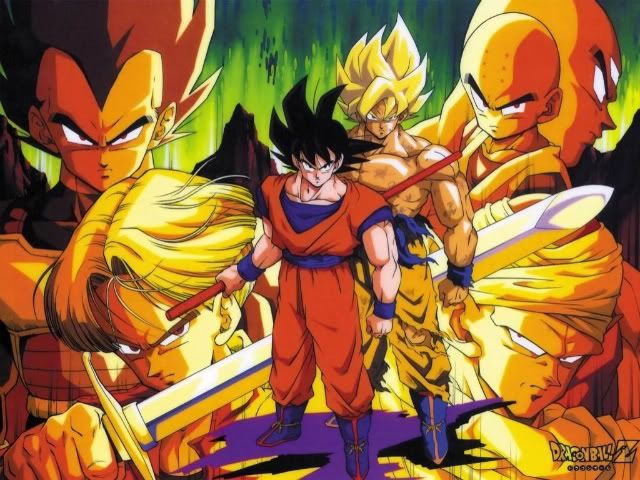 Okay, so this is basically a rehash of my
"If you were a Transformer..."
topic, only instead of giant alien car robots, it involves superpowerful alien ki warriors. Basically, this is a chance to create your very own Mary Sue-ish self-insertion character in the Dragonball universe. Since ridiculously powerful characters are the norm for DB, I think we can have a lot of fun with this.
Here are the guidelines:
Name:
Your character's name. In keeping with Dragonball tradition, your name MUST be a pun, preferably food-based. (see
this article
for more details)
Race:
Any race from the DB universe is fair game... even ludicrously powerful ones like the
Shadow Dragons
. Keep in mind that many of the races were never given official names, so you might have to use conjectural titles like "
Frieza's Species
".
Gender:
(if applicable)
Age:
Self-explanatory
Appearance:
Although you can just describe your character's appearance here, feel free to use a picture as well. DeviantArt is a great place to find fan-created DB characters, particularly by these artists:
Linky
Linky
Linky
Linky
Linky
(some of those artists have DBZ galleries in their sidebars). Even a simple search on DeviantArt can reveal some pretty good (and strange) stuff, like
female Namekians
or
female Majin Buu
.
Allegiance:
Is your character evil, good or neutral? Doe he protect the Earth like Goku? Does he destroy planets like Frieza? Or does he just love mindless mayhem and death like Buu?
Techniques:
List one or two of your characters favorite attacks or moves here (i.e. Kamehameha or Instant Transmission)
Bio:
Give a brief summary of your character's history. Plot devices to avoid: amnesia and "the chosen one".
Personality:
Write a few characteristics about your character's personality here.
Well, that's about it. Here's my character.
Name:
Maruki (pun on Malukhiyah, also known as
Corchorus
)
Race:
Saiyan
Gender:
Female
Age:
Actual age: 23 Physical age: 17 (due to stasis during spaceflight)
Appearance:
Created by combining art by
Seijimei
and
Repture
.
Allegiance:
King Vegeta and the Saiyan species, Chaotic Evil
Techniques:
Maru Ring: Maruki forms 6-inch wide 1.5-inch thick rings around her wrists and ankles, which she claims aid her agility and strength by providing "ki focusing points". Other fighters are somewhat skeptical that this technique actually provides any combat advantage.
Focused Death Charge: Maruki first developed this technique for carpet-bombing Jellian cities. She compresses a vast amount of ki into a tightly compacted ball of red energy (about the size of a baseball), which she fires rapidly at her target. The ball's small size and rapid velocity makes it difficult to intercept. Upon impact, the ball will release a large amount of ki in a massive blast, capable of reducing an entire city to dust.
Saiyan Revenge Death Beam: This attack funnels the anger Maruki feels over the death of the Saiyan species into a two-handed black energy beam fringed by a red glow and red lightning. This is superficially similar to Baby's Revenge Death Ball.
Bio:
Maruki was a low-class warrior who, as an infant, was sent out in an Attack Ball (or Saiyan Pod) to the planet Jell in order to eradicate its weak inhabitants. After she finished exterminating the Jellians by age twelve, Maruki sent a message to Planet Vegeta, informing them of her triumph and requesting that they send a ship to retrieve her (as her Attack Ball did not have enough fuel left to make a return trip to Vegeta). After four years of waiting, however, no ship arrived. Maruki began to despair. Fortunately, she discovered a naturally occurring element, which the inhabitants called Jella, deep inside Jell and was able to refine it into starship fuel. Since naturally occurring Jella interfered with her scouter's function, Maruki developed the ability to naturally sense ki during this period.
At the age of seventeen, Maruki departed Jell in her Attack Ball and began the three-year stasis trip back to Vegeta. Upon arrival, she discovered that the planet was missing; only a sparse debris field remained in its place. Vegeta had been destroyed during her mission on Jell. Upon realizing that her entire race had been exterminated, Maruki flew into an extreme fit of rage and ascended to the level of Super Saiyan.
The energies released by her transformation tore her Attack Ball apart, exposing Maruki to the vacuum of space. She fell unconscious and began to asphyxiate. Fortunately, she was picked up by a nearby scavenger ship with two occupants. Recognizing her species, the scavengers tried to restrain her (with the intent to sell her to Frieza); however, upon regaining consciousnesses, she broke free. After learning the identity of the being who destroyed Vegeta, as well as his search for the Dragon Balls, she killed the scavengers and commandeered their ship, intending to hunt down Frieza and avenge the Saiyan race.
Personality:
Maruki's chief trait is homesickness. During her time on Jell, she was very lonely; upon discovering her race's destruction, this loneliness was amplified. This drives her to take revenge against Frieza, as well as use the Dragon Balls to restore Planet Vegeta and the Saiyans. Maruki is so adamant in her pursuit of these goals, she could almost be described as obsessive. She has a healthy lust for battle, and will not hesitate to kill weaker beings without remorse.
In combat, Maruki values efficiency above all else. Instead of using flashy techniques or special maneuvers, she attacks her enemies quickly, directly and brutally. She prefers to fight on instinct, and favors a simple display of brute force over the use of tactics.