Hello there! I'm one of Ritsu's alter egos. My name is Leaf, and I am a Pokemon Champion!
...At least, I
used
to be. Here's what I used to look like.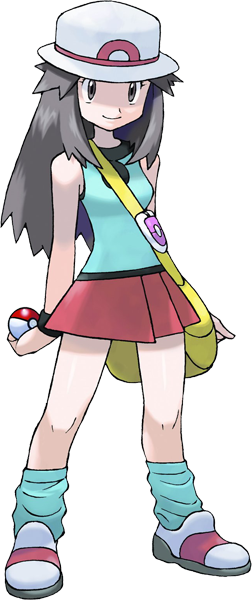 Not bad, eh? See, I was born in the Kanto region. When I was a little girl, my Dad became a Hoenn gym leader, and my family moved to Littleroot Town. I got my start as a trainer in Hoenn, where (after many exciting adventures) I managed to beat all the Gym Leaders, Team Aqua, Team Magma and the Elite Four of the Pokemon League. (Not to brag, but I also found and caught a shiny Kyogre!) After that, I traveled to Kanto and likewise trounced their Gyms and League... though, honestly, they were pushovers. I then headed over to snowy Sinnoh and took their gym challenge too. Their Gym Leaders were quite a bit tougher than those from Hoenn or Kanto, but I still beat them all. There was also a minor... er, incident with a madman named Cyrus. You might have seen it on the news; a giant spacetime vortex appeared above Mount Coronet, and Dialga and Palkia descended from the heavens and tried to destroy the world. Yeah, I stopped that.
Not a bad career for a no-name Trainer from Littleroot, eh? Then, I woke up one morning and it was all gone. My entire life, erased... I had become someone else!
More specifically, I had somehow transformed into this girl.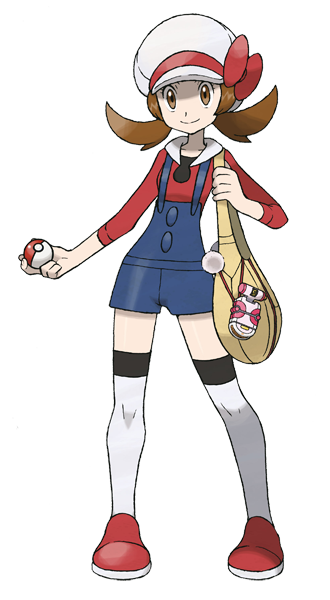 Weird, huh? A quick glance at my Trainer Card told me that my name was still Leaf, but everything else about me was different. I was 11 years old again, a rookie trainer who hadn't even gotten her first Pokemon! Every Pokemon I had caught before, the badges I had won, the items I collected... all gone. The people around me acted like the old Leaf had never even existed! Furthermore, I found myself somewhere I had never been before: the Johto region!
At first, I thought it might be a dream. After that notion faded, I figured it must have something to do with Dialga, Palkia or possibly Arceus. After all, I had been screwing around with the spacetime continuum quite a bit since I caught those three... maybe something I did caused a temporal loop or dimensional warp and changed my entire existence. Regardless of what happened, one thing was clear: I was going to have to start all over as a trainer. After all, I had been yearning for a new adventure, even if I didn't quite picture it turning out like this.
Long story short, I chose Chikorita as my starter, trained up a Gastly, and have since beat the first gym. I must admit, beating a gym is a hell of a lot tougher when you don't have a Rayquaza or Blaziken to blast your opponent into oblivion. Anyhoo, I've heard that Pokemon trainers tend to gather 'round these parts, so I figured I'd come and see if anybody else has experienced the same weird life-transformation-thing I did. I wouldn't mind meeting up with a few fellow trainers too.
Uh, I guess that's all. Looking forward to meeting you all!