Sometimes in life an event just knocks you over, completely leveling all logical thought, leaving you babbling incoherently until you do something to alleviate the problem. This mental jaw-drop occurs for me whenever I see these new figures of the Lucky Star girls I adore cosplaying as characters from another favorite anime, Macross Frontier. Moe blindside delivered right to the eyes.
Now usually this would warrant an instant emptying of the wallet, probably paying out a fair amount more then the original 1,800 yen store price. Unfortunately for this Kagami fanboy, he will not be getting his hands on any of these gorgeous lovelies due to the sheer unavailability.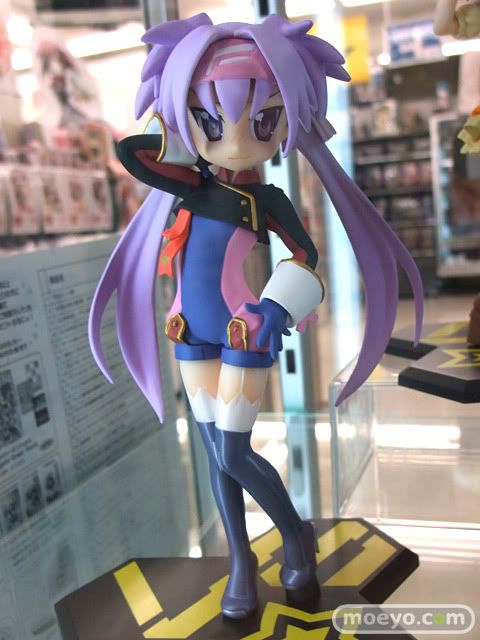 That is indeed a pity because they are all epic. For 1,800 yen they are a steal for all those lucky sods in Akihabara, and the detailing on the actual figures looks pretty good as well. Tsukasa Hiragii is extremely cute in her Ranka cosplay, both character and dress design are faithful to both anime series. She even pulls off that little signature gesture of Ranka's perfectly. Kagami knows all too well her Micron Kulan Kulan cosplay has the ability to destroy minds, and Miyuki as Sheryl is bliss to look at.
Now I am afraid to say that Konata may have gotten the rough end of the stick by choosing to cosplay Alto, cos my moe meter is quickly turned off by male look alike figures. On the other hand, yes, it is a fitting role for her since Konata is the most boy like of the girls, and no doubt she would have lots of fun teasing Kagami in the process.
The detail on each figurine is quite good, although at 1,800 yen they won't be of GSC Figma quality or above. But then who cares? Each figures facial expression, hair style and pose is smack on what I expect; true to the Lucky Star art style.
Each figure is produced by Banpresto, a Japanese game development firm. There were other Lucky Star: Macross Frontier themed products released at the same time, namely plushies and nendoroid style figures of the lesser characters from Lucky Star, also in cosplay outfits. Of particular note, however, where the Valkyrie models: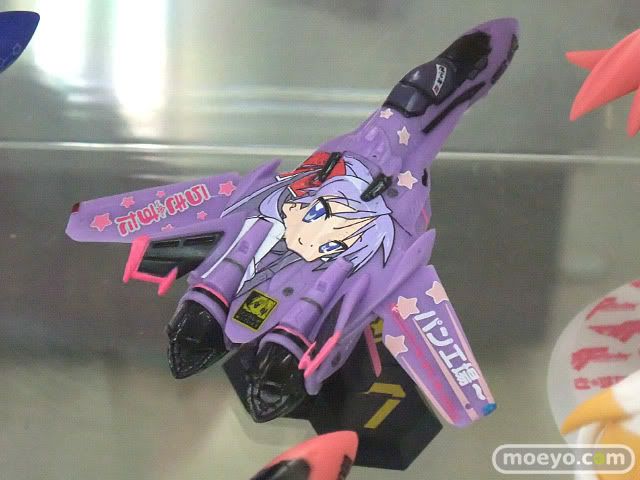 Now if Alto had gone into battle with this paint job on his plane along with Ranka's singing, all those Vajra would of been defenseless against such a moe attack. Just like I am.
–Photos courtesy of moeyo.com [mildly NSFW]