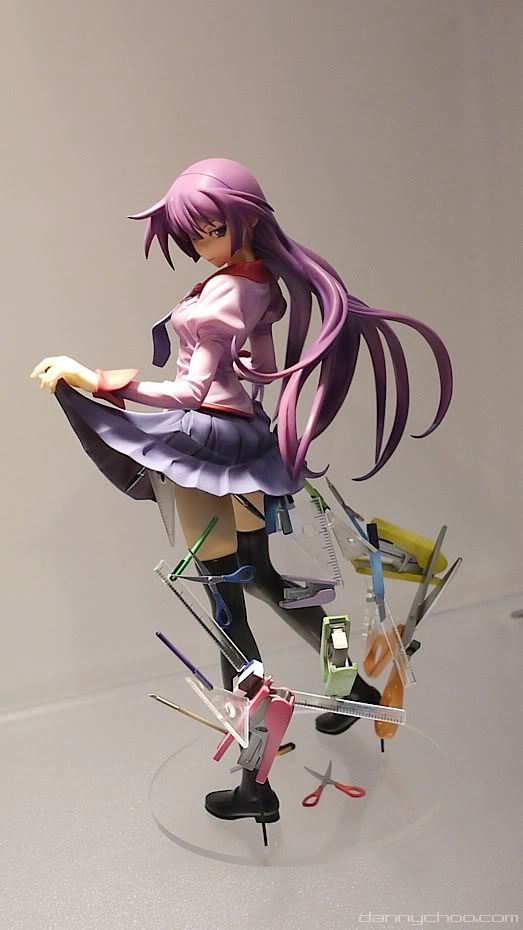 Just a short post before I make my way westwards in my journey of life and career. This year there have been lots of prototype figures released that all have the potential to blow my mind as well as my wallet; chief of whom is Senjogahara Hitagi from the SHAFT anime series Bakemonogatari.
As always, Danny Choo has long been my first source of information about Figures and nifty stuff happening in Japan, always taking lots of photos and posting them on his burogu here. This time he has been attending the Tokyo Animation Fair which happens to be chock-a-block full of every kind of anime product you can think of; from funky mousepads to railgun T-shirts, and lets not forget: figures. Lots and lots of 'em.
I am pleased to finally see a painted version of Senjogahara (no doubt Pandemonium will be too, once he gets back online), except this is probably still a pre-production prototype. Judging at the photos of her, the word 'awesome' does indeed come to mind, as does 'expensive', but since it is a GSC figure the quality will be through the roof and therefore worth the cost just in sheer oggling terms. C'mon, imagine this on your desk…
Expect a review once details are released about pricing and stuff, but for now go check out how busy Goodsmile have been developing products to rid you of your money (Hint: if your a fan of Rin Tōsaka you cannot miss this).
–via DannyChoo.com