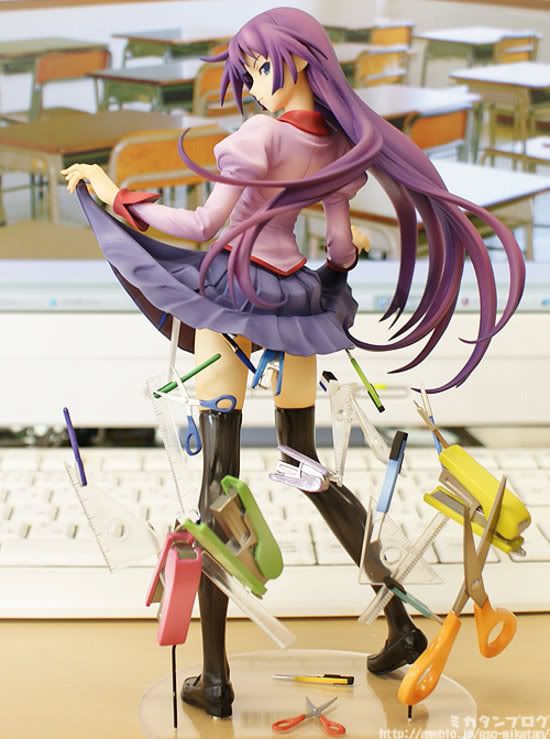 Good Smile have finally released some preview coloured photos of their yet to be released Senjougahara Hitagi figure. Now if you are like me and adore figures, you have been drooling over this since you caught that first glimpse of an unpainted prototype. So get ready to grab the napkin (or bucket) and behold! More after the jump.
First impressions are great. GSC is top tier when it comes to figure design and construction, and I can find no fault in what is depicted in these photos. Hitagi has been faithfully recreated as depicted in Bakemonogatari, which will please her legion of fans.
The reason I have been awaiting this release so eagerly is not just because I enjoyed the anime, but the anticipated quality of the figure itself. GSC and Alter are becoming more and more ambitious with their figure sculpting and nearly always faithfully recreate the subject character. I mean, translating a 2D anime character to a 3D PVC figure while keeping the fanbase happy is no small achievement. Sure both GSC and Alter represent the more expensive end of the whole spectrum, but since I am incredibly pedantic over small details, I see this as money well spent.
Paintwork, design and proportions are spot on. Hitagi's sly facial expression and those cool blue eyes staring you down are absolute win, as is her uniform. My only gripe though is with how this figure is viewed; her pose. Most figures are forward facing, or the character is in some way moving towards the viewer. This version of Hitagi is best viewed from behind, with Hitagi looking over her shoulder at the viewer. GSC have done alot to make this pose interesting, by throwing in plenty of Senjougahara's trademark excess stationary and that glare, but I cannot help but feel that with GSC quality another pose would of been better. Key example of this would be that if you do indeed view her from the front, there is a large join between two hair pieces on Hitagi's head.
Still, perhaps only GSC or Alter could pull this off, and when she comes up for pre-order I will have my wallet prepped and ready. Be wary though, I bet there will be a Tsubasa-cat figure to come sometime…and that will be even more epic.
–Via Tomopop
PS: where the heck do you reckon she kept those scissors? @_@