Last week's sexy hair poll was so popular, I decided to make a weekly poll-oriented debate column. Welcome to the inaugural edition of Otaku Debate! Here, we will discuss the hard-hitting issues facing the otaku community today, while oogling as many sexy ladies as we can. Let's begin!
When I posted this image to Twitter last night, I was surprised when many of my followers expressing support for fat fetishism. Quite a few people thought that pictures such as this one (VERY NSFW) and the one above were sexy, often repeating the catchphrase "Big girls need love too." This got me thinking... last week's poll seemed to indicate a certain sense of conformity with regard to hairstyle preferences, with twintails and waist-length hair being the most popular. Are there a significant number of otaku who go against the norm and enjoy a nice, fat anime girl? Or is this particular fetish relegated to fringe status, supported by a small but vocal minority? Vote in the poll below, then let me know your thoughts on the matter in the comments!
Do you find fat girls sexy?
I don't mind a girl with a bit of meat on her. I wouldn't go so far as to say "fat" though. (41%, 56 Votes)
A little chubbiness is fine, but not TOO much. I like girls who are "fat in all the right places." (32%, 44 Votes)
Hell no! I like my girls thin. (16%, 22 Votes)
Yeah, I think fat girls are sexy. However, there is a limit. Morbidly obese is too far. (11%, 15 Votes)
I prefer my girls obese, often to the point of immobility. Perhaps the internet has warped my sensibilities? (1%, 1 Votes)
Total Voters: 138
Loading ...
In episode 21 of K-ON!, the girls try out a variety of different hairstyles in preparation for their class photos. One commenter, Don Kangol Jones, mentioned that he thought this was a subtle commentary on how a character's design and, by extension, personality is defined by their hairstyle. This got me thinking about past anime and manga where characters have changed their hair. One example that stuck in my mind was the final volume of A.I. Love You, where Cynthia trimmed her long locks into a bob cut that, frankly, didn't suit her at all. Although her personality technically stayed the same, she just seemed like an entirely different person based on appearance alone. I think Don hit the nail on the head; hairstyle is the most important aspect of any anime character's design.
So, what kind of anime hairstyle do you like best? And what type of personality do you think that hairstyle suits? Do the twintails make the tsundere, and do all tomboys sport short haircuts? Should an elegant bushido girl wear a ponytail, or let her flowing tresses fly free? I'm interested in hearing your thoughts. Vote in the poll below, and leave your opinion in the comment section!
What's your favorite hairstyle on a sexy anime girl?
Twintail (21%, 20 Votes)
Long (Waist Length) (16%, 15 Votes)
Short (13%, 12 Votes)
Long (Mid-back Length) (13%, 12 Votes)
Ponytail (12%, 11 Votes)
Shoulder-length (8%, 8 Votes)
Long (Ankle Length) (4%, 4 Votes)
Long (Hime Cut) (4%, 4 Votes)
Side-Ponytail (3%, 3 Votes)
Drill Hair (2%, 2 Votes)
Bald (1%, 1 Votes)
Pigtails (1%, 1 Votes)
Braided (1%, 1 Votes)
Bob Cut (1%, 1 Votes)
Buzz Cut (1%, 1 Votes)
Bun (0%, 0 Votes)
Odango (multiple buns) (0%, 0 Votes)
Total Voters: 95
Loading ...
It seems there's hope for you dummyheads after all! You chose 2D over 3D in last week's debate. *sniff* I'm so proud!
This week is a no-holds-barred battle between sexy schoolgirls. Do you prefer your serafuku-clad seductress in two dimensions or three? Does it really matter, since your chances of scoring with either are essentially nonexistent? If you enjoy these kind of pictures, does that make you a social deviant? Is the sexualization of high-school students morally justifiable? Do you even care? WHY AM I ASKING SO MANY QUESTIONS?

Which schoolgirl is sexier?
Do you have the 3D girl's phone number? (41%, 69 Votes)
I confess my love for the 2D one! (32%, 53 Votes)
Er... can't I have both? (27%, 46 Votes)
Total Voters: 168
Loading ...
Much to my surprise and chagrin, 3D was the clear victor of last week's debate. Seriously, what the hell! You people call yourselves true otaku?  Shame on you!
Perhaps you'll come to your senses for this week's debate. Here are the contestants for round two! On the left we have a buxom blue-haired beauty, Shimei Ryomou of Ikkitousen. To the right is the lovely actress and gravure idol Rina Akiyama. May the sexiest woman win!
Cast your vote now!
Which is sexier, 2D Shimei or 3D Rina?
The 2D version is obviously superior! (49%, 33 Votes)
Sorry, but the 3D version is still sexier. (27%, 18 Votes)
They're BOTH sexy! I can't choose! (24%, 16 Votes)
Total Voters: 67
Loading ...
Since the dawn of the internet, mankind has been plagued by one absolute question.... which is sexier, 2D or 3D? Well, we here at Project Haruhi have decided to answer that question once and for all by hosting a series of 2D vs 3D debates! Here's how it works: I'll post a set of 2D/3D comparison images, and you readers will chose via poll which one you think is best. LET THE DEBATE BEGIN!
Here are the contestants! On the left we have Rukia Kuchiki in all her gorgeous 2D glory, and on the right a voluptuous Asian beauty cosplaying her in 3D!
Cast your vote now!
Which version of Rukia is sexiest?
The 3D version, because she's not imaginary! (67%, 63 Votes)
Argh, I can't decide! I pick BOTH!! (20%, 19 Votes)
The 2D version, of course! 2D is always superior! (13%, 12 Votes)
Total Voters: 94
Loading ...
We've got a new poll! Let us know which K-ON! girl is your favorite by voting below or on our polls page. You can also head to our forums to discuss the series in more detail. Be warned, however... I can't guarantee any of your safety if Ritsu doesn't win.
Heh heh heh, I'm just kidding.... OR AM I!?
Which K-ON!! girl is your favorite?
Mio Akiyama (25%, 24 Votes)
Yui Hirasawa (22%, 21 Votes)
Ritsu Tainaka (18%, 17 Votes)
Azusa Nakano (13%, 12 Votes)
Tsumugi Kotobuki (10%, 10 Votes)
Ui Hirasawa (4%, 4 Votes)
Sawako Yamanaka (3%, 3 Votes)
Nodoka Manabe (2%, 2 Votes)
Megumi Sogabe (2%, 2 Votes)
Jun Suzuki (1%, 1 Votes)
Total Voters: 96
Loading ...
What Japan Thinks recently posted the results of a survey of Japanese men, which asked them about their favorite "secret fetish". The top result, unsuprisingly, was zettai ryouiki, which is Japanese for "absolute territory"; in other words, that glorious bit of flesh between the top of a girl's thigh-high socks and the bottom of her skirt. I must say, the Japanese have fine taste.
Now, purely for the purposes of scientific analysis, I've included some examples of thigh-high-wearing women below.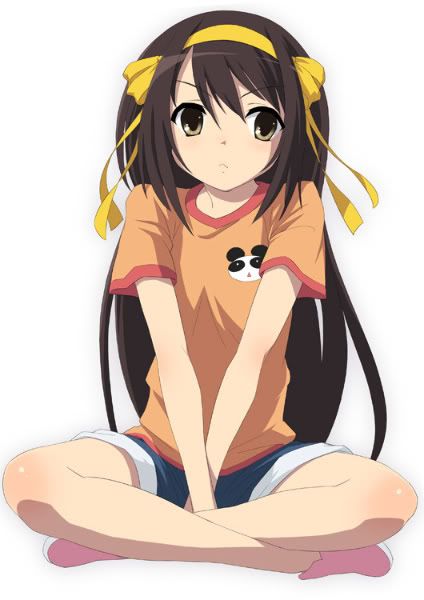 Vote in our new poll, and let us know what you thought of Endless Eight! You can vote below, or on our Poll page.
What did you think of Endless Eight?
After two or three episodes, it got very boring. (29%, 26 Votes)
It had too many episodes, but I still enjoyed them all. (24%, 21 Votes)
I gave up and stopped watching partway through. (24%, 21 Votes)
It was an absolute disaster. (16%, 14 Votes)
It was a fun and enjoyable arc, with no major flaws. (7%, 6 Votes)
I do not plan to watch this arc at all, due to all the bad hype. (1%, 1 Votes)
Total Voters: 89
Loading ...