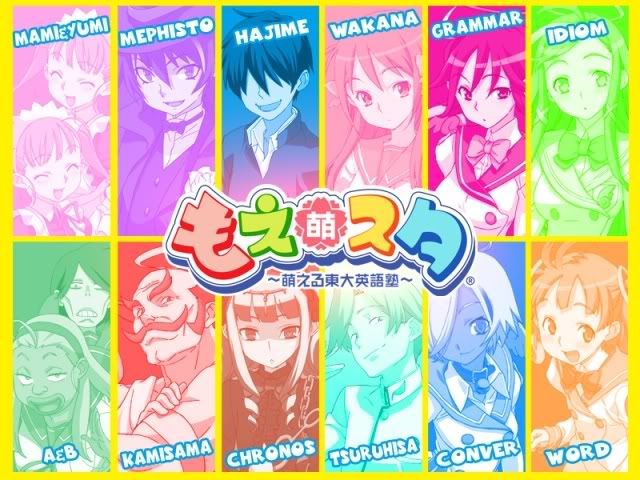 Are you a native Japanese speaker who:
Is over 18 years old,
Has never had a girlfriend,
Wishes to gain entry into the legendary Tokyo University,
Has so far failed to gain entry into the legendary Tokyo University,
(optional) Made a promise to a cute girl from your childhood that someday you would get married at Tokyo U?
If so then look no further then your local game shop for a copy of the new DS game "Moe-Sta Moeru Todai Eigo Jyuku", and you may be one step closer to fulfilling a few of those dreams!
"Moeru Todai Eigo Jyuku", or "English Study for University of Tokyo Entrance Exam" is a DS game designed like a cute dating simulation  with educational lessons thrown in. Four different angelic girls will teach you the different aspects of English language, all in order to prepare you for the ordeal of passing the Tokyo U English entrance exam. The only way to progress with the main female protagonist, Wakana, will be to woo her with your magnificent command of English.
This theme should sound familiar to people who have read the Love Hina manga by Ken Akamatsu (or seen the anime). Keitaro nearly sweated blood getting passed the mock exams, although he had the hotblooded Naru to keep him from straying too far. This game aims to fulfill Naru's role, albeit electronically and with plenty of nice animated fan service on the way. That's not to say Naru is inferior to a DS, heck no!
To top it all off, a scholarship is available to people who are successful in gaining entrance to Tokyo University, are studying English, and have played the game. This scholarship, funded by the game production company, has already been awarded to two successful applicants.
Now how long before there is an English to Japanese equivalent? I wouldn't hesitate to buy the console and game, despite me being a poor student myself, 'cos its an AWESOME idea…
via Cartoonleap, Crunchyroll and Moe-sta.