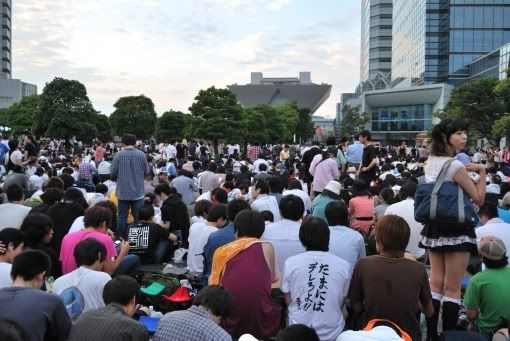 Three days of packed, sweaty chaos at the height of the Japanese summer has seen 560,000 people pass through Tokyo Big Sight's doors for the 76th bi-annual Comiket. According to attendance figures this number is an increase of over 10,000 people when compared to last years festival, enough to completely swamp the local public transport facilities. With recorded waiting periods of over 4 hours just to get inside, you'd certainly have to be already cashed up and ready to spend, as the extra attendance emptied every single ATM within the conference center. Cash stricken attendees inside the convention notified others of the large problem via the Twitter website.
With such mind boggling numbers over such a small time period, it seems (judging from the photos of ENORMOUS QUEUES) that you have to be very dedicated and prepared just to get in, i.e. plenty of water and your choice of folding chair and/or cushion…
–via ANN. Photo sourced from aaroninjapan09.